ROUND DIAMOND
The Round Diamond is one of our most popular shapes, the classic Round Brilliant Diamond sparkles with unbeaten brilliance and beauty. This cut is considered traditional, with 58 facets: it holds the ideal proportions to maximize shine. 
Brides who wear this style of cut tend to be sincere and romantic, they also consider themselves to be honest and faithful. Celebrities that have been given a Round diamond include Fergie, Jennifer Anniston and Scarlett Johansson.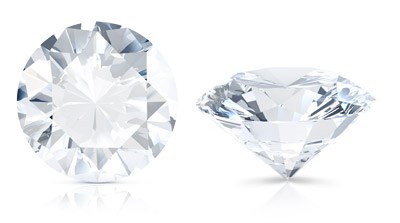 PRINCESS DIAMOND
The Princess Diamond is our second most popular shape, it's cut perfectly into a square and usually has 57 or 76 facets. This diamond portrays a modern design with a contemporary edge. 
Brides who wear this consider themselves as clever and fun-loving, who like to be the center of attention and enjoy taking risks. Celebrities who have this diamond cut are Jessica Biel and Christine Baumgartner.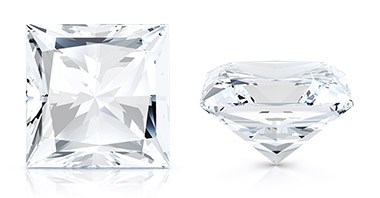 EMERALD DIAMOND
The Emerald Diamond usually has 57 facets, it boasts a rectangular and sleek design.
Brides who have this shape have a keen eye for design and a good sense of self, they may consider themselves to be known to take risks and be open to the unexpected. Celebrities that have been given this diamond shape include Serena Williams, Kim Kardashian and Beyonce.
CUSHION DIAMOND
Soft and plump, the Cushion Diamond is often shaped square but with smooth round edges. It is also known as a pillow cut which usually has 58 facets making the diamond look elegant.
Brides who wear this style are seen to be romantic but brave, they also tend to consider themselves as a trustworthy friend and partner as well as being fashionable. Some celebrities who wear this style are Priyanka Chopram, Miley Cyrus and Chrissy Teigen.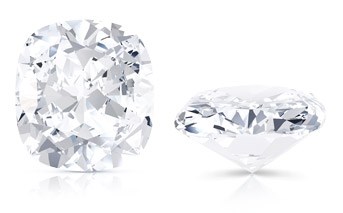 ASSCHER DIAMOND
Elegant and unique, the Asscher Diamond is a fashionable statement bound to catch everyone's eye. This diamond offers a sense of sophistication, it contains either 50 or 58 facets (where the Royal Asscher has 74 facets) giving it a 'hall of mirrors' effect: allowing light to bounce to and from each face to create an immense rainbow.
Brides who have this shape tend to have a flair for drama, as well as being feminine and having a taste for vintage items. Celebrities who wear this diamond cut are Gwyneth Paltrow and Carrie Bradshaw - who made this style immensely popular when she modelled this shape in Sex in the City, bringing this style back to life from the 1920s.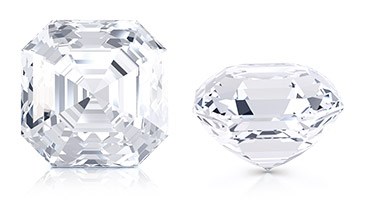 RADIANT DIAMOND
Oozing enchantment and romance, the Radiant Diamond is richly luxurious in every way. With 70 facets, this shape glistens with every chance it gets.
The bride who wears this traditional style is known to be persistent and confident, though they're not afraid to be different. They also see themselves as fun and flirty. Celebrities who have worn this cut are Megan Fox, Khloe Kardashian and Jennifer Lopez.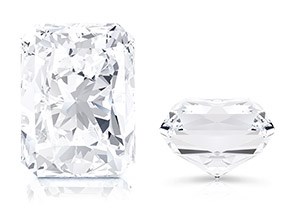 HEART DIAMOND
The Heart Cut Diamond is not only a romantic gesture, but it also radiates fire and brilliance with the smooth glistening curves. This heart-shaped diamond has 56 to 58 facets to sparkle and is the symbol of love.
Brides who wear this cut love to make a statement - they are seen to be optimistic, sentimental and passionate by nature. Some celebrities who wear this diamond are Lady Gaga, Nicki Minaj and Gwen Stefani.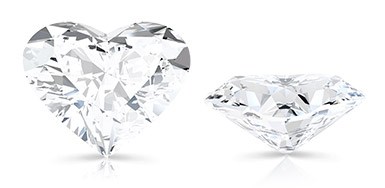 OVAL DIAMOND
Elegantly smooth, the Oval Diamond is becoming an increasingly popular choice for an engagement ring. This diamond offers fire, brilliance and scintillation. It provides a symmetrical, elongated rounded shape which usually has 58 facets.
Brides that own this style tend to be sophisticated and enjoy having objects that are one of a kind, others see them as bold and creative. Celebrities that wear this shape are Hailey Baldwin and Blake Lively.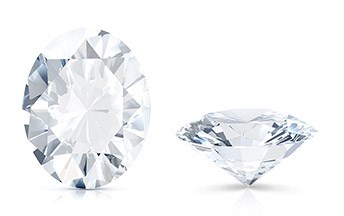 MARQUISE DIAMOND
Mystical and stylish, the slender Marquise cut is an impressive shape with an alluring charm. This diamond can often appear larger than life due to its unique cut, where it usually has 56 to 58 facets, it is referred to as a long 'navette' oval shape, meaning small boat.
Brides who wear this diamond can be a little bit dramatic and very outgoing, though they enjoy being amusing. They have a 'larger than life' attitude and are seen to be all about opulence and elegance. Celebrities who own this style of diamond include Victoria Beckham and Ashlee Simpson.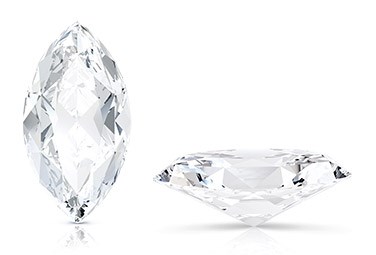 PEAR DIAMOND
Smooth and curvaceous like the Round Brilliant, yet pointed at one end like the Marquise; the Pear Diamond is a striking shape for a dramatic design. This beautiful style is also known as the Teardrop, where it usually contains 56 to 58 facets.
Brides who wear this cut are always yearning for more and are open to the idea of two things being one. Though their peers would describe them as easygoing and peaceful. Some celebrities who wear this style are Cardi B, Ariana Grande and Big Bang Theory star: Haley Cuoco.